1. I finally posted about our awesome annual summer trip to Montana. You can find it
here
and
here
2. Ryan's Estimation Jar
This week Ryan was in charge of the estimation jar for his class. Last week one of the kids filled the jar with wooden blocks and Ryan's estimation won! So this week we filled it...with some spooky skulls! He was so proud to bring it in on Monday.
3. Guest Room decor
Once again I was tapping along on Instagram and I found this beautiful house in Austin. As I was checking out all the amazing decor I fell in love with its guest room. Isn't this adorable?
Since Kevin and I met in Austin I originally thought of doing the same 'theme' but then I changed it to Dallas, you know, since we live here. Here are some pics of some of the Dallas-y decor that I found:
My mom is going to make this dish towel into a throw pillow for the bed.
And I was dying to get my hands on a rustic "Dallas" lighted marquee sign but I randomly came across this Texas one while I was in Katy and bought it instead.
Once again the room is still in the works - but it is oh so close!
4. Outdoor Halloween decorations
This year Ryan and Grayson were begging me to put the Halloween decorations up. They kept asking me when we could do it...and last Friday was the day. They were so excited when I told them on the way to school that we would decorate that afternoon - they told everyone they ran into. And after we decorated, they asked all of our neighbors where their decorations were. They are serious about their Halloween decor.
5. Halloween outfits for H.
I love shopping for Hayden anytime of the year but I do get especially excited to dress her up on holiday themed outfits! Apparently cats are a big thing for little girls and Halloween. While I'm not a huge fan of cats any other time of the year, they are pretty darn cute for Halloween.
How adorable are those little cat shoes?!?
I found this adorable romper costume on my Insta feed - ah Instagram shopping is another weakness of mine. It's so addicting...and easy! It's from
Belle Threads
and I can't wait for it to arrive! They have so many other cute and unique (
not that a cat is unique
) rompers!
I also saw these adorable "Cutest Pumpkin in the Patch" raglans by
Sprinkle of Sparkle
and wanted to order one, but I waited too long. I was thinking of trying to make one but I can't find orange heat transfer paper for the pumpkin...maybe next year!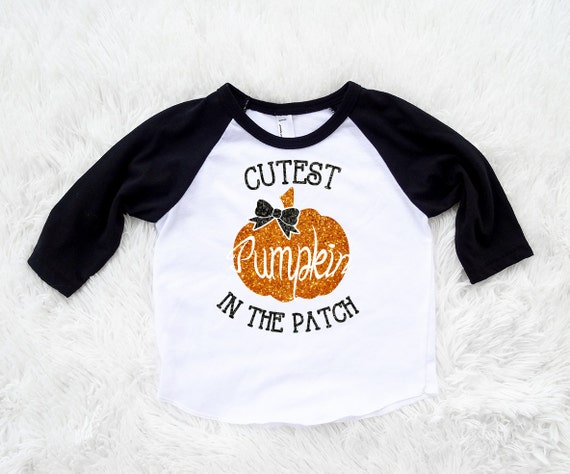 I am still planning to make her a Hocus Pocus t-shirt but my issue has been finding plain t's. Oye. Sounds simple but I have checked Target, Carters and Old Navy and found nothing. I would also love to see more Halloween bloomers. It's too hot for leggings and I just have one pair of black rufflebutts...which we wear almost every day.