1. What we're eating this week
1. Shrimp Farfalle with fire-roasted red pepper, lemon & basil
We ate this last night and it was so yum! I love any kind of pasta with a lemon-butter sauce so this was right up my alley. The kids loved the shrimp and the pasta although I had to pick out the red peppers and basil. Great meal - a little heavier than I typically like to eat on a weeknight but still delicious!
2. Pan-Seared Chicken with Roasted Potatoes, Green Beans and Creamy Dill Sauce
3. One-Sheet Sausage and Pepper Hoagies with Broiled Asparagus
We ate this on Sunday evening and it was delish! We grilled the sausage (instead of cooking in the oven) and it was the perfect outdoor meal for our family. The meal is great without the hoagie too!
2. What I'm reminiscing about
Been trying to get the kids yearly books finished....ummm the ones from last year. Oops! Love seeing how much they have grown.
3. What I'm Loving
When we were in New Orleans waiting for our Garden District Tour I was wondering around a bookstore and saw some cute children's books. I took a picture so that I could look them up on Amazon later - anyhow, I found
Finding Winnie
and guys - it's a winner! If you have kids you need this book! It is the SWEETEST story about how Winnie the Pooh came to be. I love it!
I also ordered
Mother Bruce
and it is currently Grayson's favorite book - he wants to read it every night!
4. What We've Been Up To
Birthdays!
We have lots of April birthdays in the family - Papu (my dad), Uncle Nick (my brother), Ethan, Michael and Gigi!
5. What I'm Dreading
hmmmm....Taking my car in to get fixed? Kevin got in a minor accident in it and it needs some work. It's just another thing to add to my to do list...and driving a loaner is never that fun. I'm just not looking forward to that hassle. I have an appointment to get an estimate on Thursday - all body shops are so backed up because of a recent hail storm.
6. What I'm Working on
I am helping Michael out with a little party for Sarah's 40th birthday. Her big celebration is a trip to Napa...although this party is turning in to quite the little shindig if I don't say so myself! It's super fun - champagne and sparkles! Two of my favorite things!
VBS will be here before we know it and I am on the decorations committee again this year. Kassidy and I met and discussed initial thoughts for the YC decorations - the theme is Cave Quest. It's going to be lots of fun!
Lastly, I am still working on figuring out selections for our laundry room. We aren't wanting to put a ton of money into this room because, well, because it's a laundry room. When we received the quote for the countertop I realized that I needed to go in a different direction. A less expensive option is to go with a wood countertop like this:
This was an Ikea countertop - I didn't even know Ikea had countertops. Anyhow, I need to figure out exactly what we want to do and make final selections.
7. What I'm excited about
see #6
8. What I'm watching/reading
Homeland - we are in the middle of Season 3. So good.
Real Housewives of Dallas. I know- it's embarrassing for our city, but aren't all of the Real Housewives shows kind of a hot mess? I mean, it's entertainment TV. I don't expect much.
9. What I'm Listening to
The radio...
10. What I'm Wearing
Planning outfits for our trip to New Orleans was a bit of a challenge for me. Mainly because everything needed to fit in a carry on suitcase.
(My girlfriends are serious traveller's and checking a bag is not cool.)
I typically like to have lots of options so I needed to scale back and make some decisions. Using Polyvore really helped me visualize my outfits. You can
click here
to find sources.
11. What I'm Doing this Weekend
We are suppose to go to a friends ranch but if the weather doesn't cooperate we might just stay back in Dallas...and not have any plans/commitments. Well besides soccer/football games, but if it's raining those will most likely get rained out too.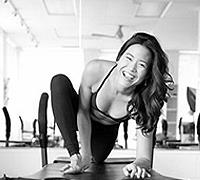 However, if we do stay in town I signed up for a class with Piper Michelle, a master/celebrity lagree fitness guest trainer at Studio 6. I am excited and also slightly afraid to do that on Sunday.
12. What I'm looking forward to next month
End of School year fun - musicals, graduation & parties! Excited for summer to begin! And of course - BELIZE with the fam!
13. What else is new
nada
14. Bonus: What is your favorite mother's day gift to give/receive
I know it sounds silly but I actually really look forward to the sweet little gifts that the kids make at school. It's probably one of the few things that don't go in the trash :) I always think the little questionnaires are so much fun!
As for the day itself, I love a good family brunch or dinner and a little downtime.